Young William and James were the luckiest boys in Cambridge.  Their father, a brilliant inventor, had built them their very own beer hutch! Fun and adventure was never far away, thanks to their thermostatically heated shelter which was large enough to hold a pressure keg and lots of bottles.  Actually, fun and adventure were some considerable distance away, and not getting any closer, thanks to their father not giving it to them and putting his beer in it instead.  They would only have used it to have zany adventures with an ironic twist at the end anyway, and I'd rather drink beer thanks.
But why a beer hutch?  Home brew needs to be stored at the correct temperature, which is less than the inside temperature of a house, but more than the bloody freezing temperature it currently is outside; I don't want to suck it like a lolly.  An outside cupboard or garage would normally be fine but unfortunately, at some point in its life, our Victorian terraced house had had its outside toilet and coal bunker knocked down and turned into a big kitchen.  With no thought as to how future residents would store their homebrew at the correct temperature – not very forward-thinking, eh?  For a while my beer lived outside, wrapped in a heated underblanket (found in a skip – very few stains on it but a broken switch), with its temperature controlled by a home-made (mainly from scrapped parts) thermostat: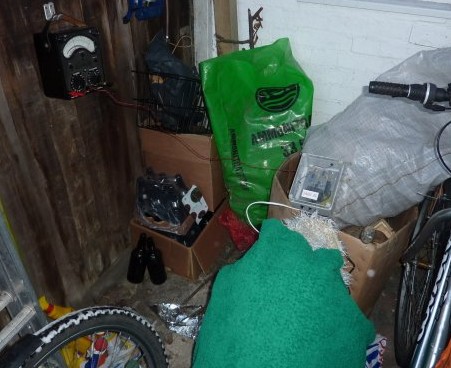 There she is, huddled under her green blanket.  Just above is the control electronics and hanging on the fence is the temperature readout:
10.5 Degrees – just right.
This is all very well and good, but it's a right pain actually getting the beer out – you have to lift up all the layers to get to the tap and take everything off to give her a puff of CO2.  Also, what do I do when I've got 40 bottles of beer as well as the keg?  So I needed a little beer hutch to keep the precious liquid at the optimum temperature.  Luckily, they were chucking out a load of under-bench cupboards from one of the labs at work:
Pretty tatty, but it's built like a brick shithouse and it just needs a top, door, stronger back, insulation (walls and door are a chopped up Tesco Value duvet with skip-found insulated board top and bottom) and the heater blanket.  A couple of nights later…
Lots of insulation and the heated blanket installed.  What does it look like from the outside?  In a word – tasty.
The sharp-eyed might notice that the door is a) the wrong colour, b) the wrong size, c) hung wonky and d) upside down, but when you are hanging upside down by your feet from the edge of a skip, you can't be choosy about the colour, type or which side door it is.  It shuts.  It opens.  It fulfills its purpose.
And now my beer is in her lovely new, hand-crafted home.  The end result:
Night night precious beer.